Youzer là plugin cho phép bạn tạo một website cộng động, mạng xã hội với các tính năng như quản lý thành viên gia nhập, quản lý thông tin người dùng. Với 14 mẫu header, hơn 20 profile widget, 16 bộ màu, hệ thống quản trị chuyên nghiệp, tùy chỉnh nâng cao… sẽ giúp bạn xây dựng một mạng lưới cộng đồng đặc sắc và riêng biệt.
Youzify (formerly Youzer) – BuddyPress Community & WordPress User Profile Plugin
---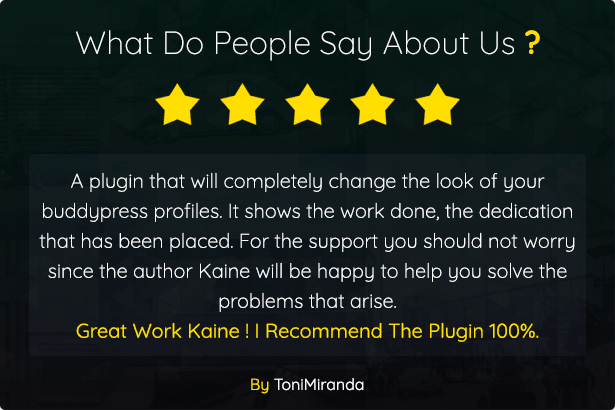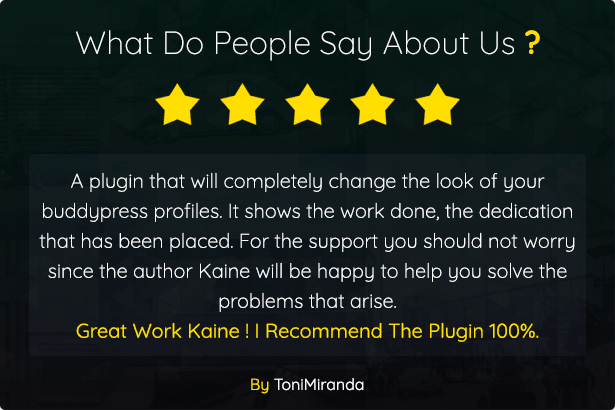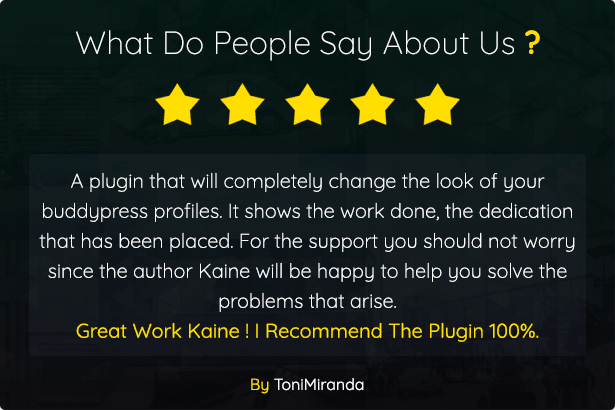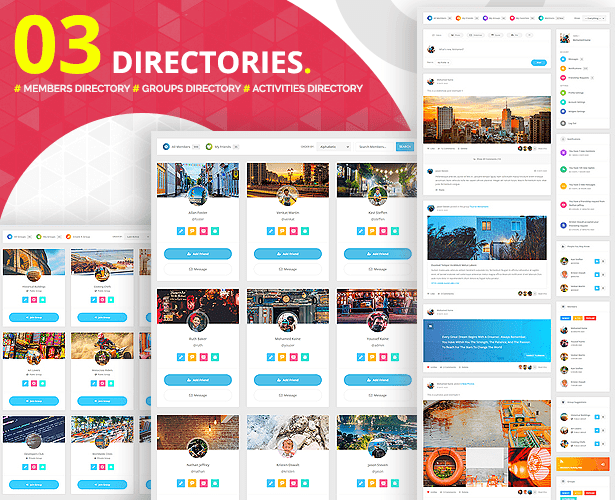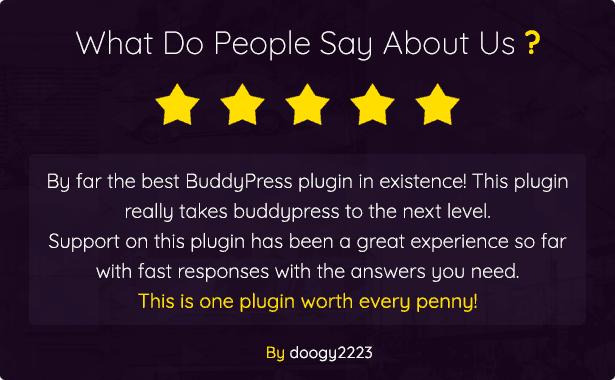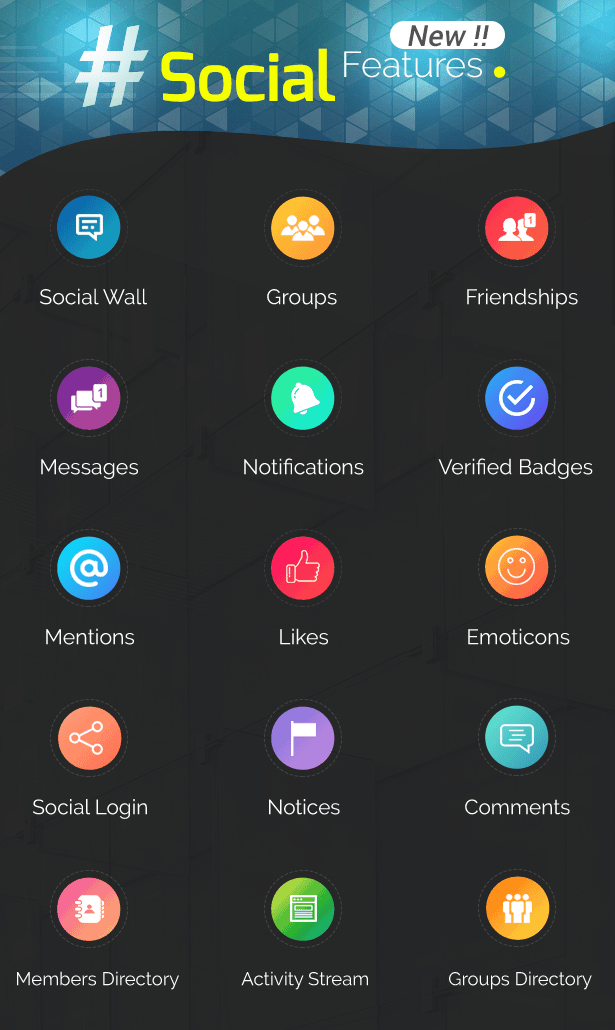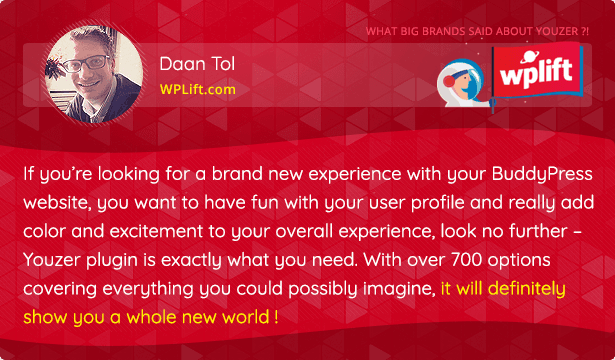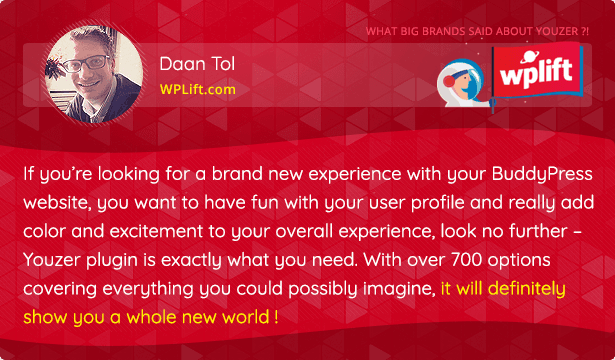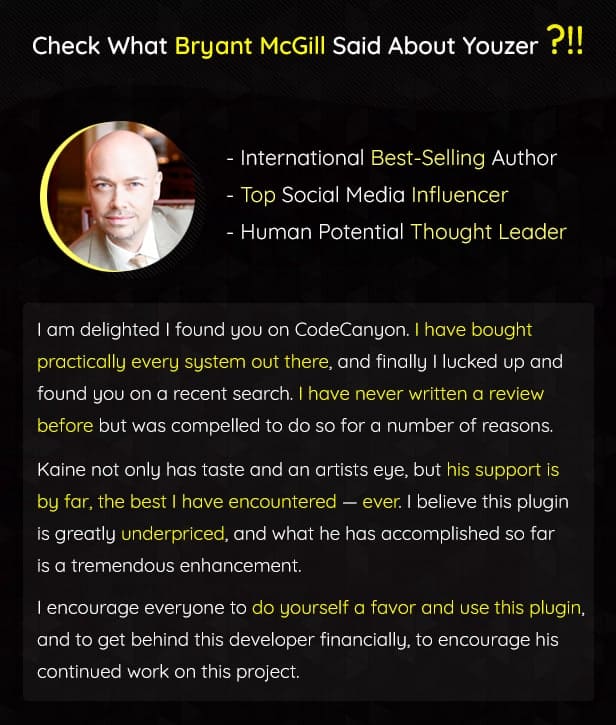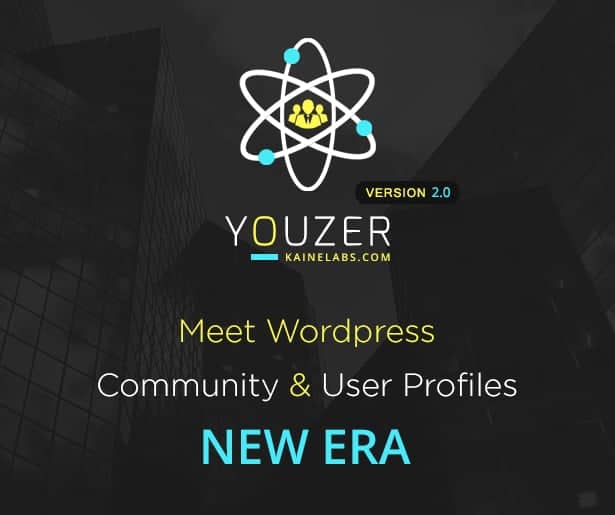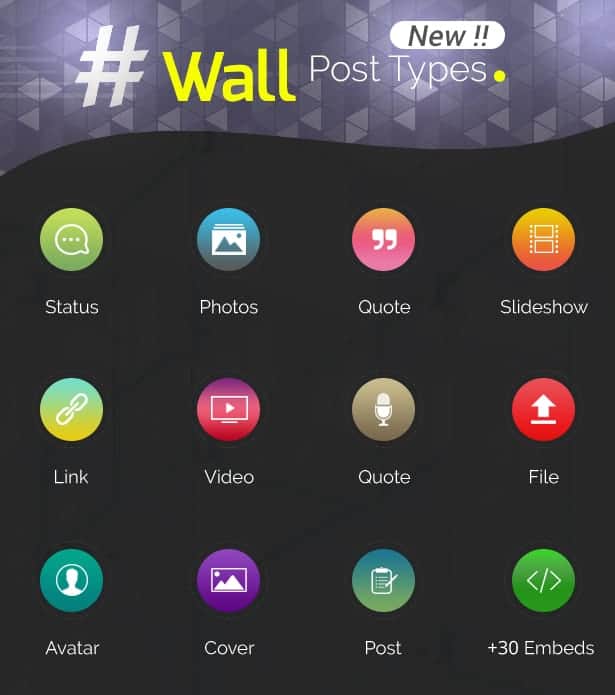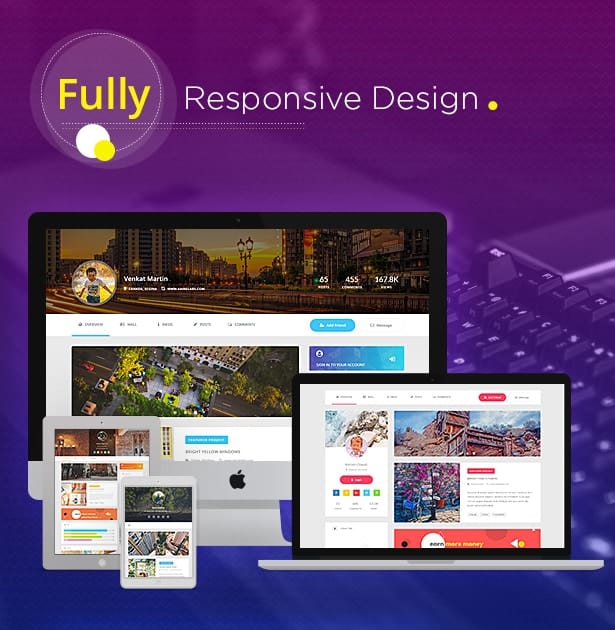 ---
Youzer is a Community and User Profiles Management Solution with a Secure Membership System, Social Login, Front-end Account Settings, 14 Header Styles, +20 Profile Widgets, 16 Color Schemes, Advanced Author Widgets, Powerful Admin Panel, Fully Responsive Design, Extremely Customizable and a Bunch of Unlimited Features.
SOCIAL FEATURES :
Likes
Points
Badges
Notices
Mentions
Comments
User Tags
Emoticons
Social Wall
Sticky Posts
Notifications
Verified Badges
Live Url Preview
Private Messages
Extended Profiles
Friend Connections
Social Login / Registration
Media ( Photos, Videos, Audios … )
Groups ( Public Groups / Private Groups / Secret Groups )
DIRECTORIES :
Members Directory
Groups Directory
Global News Feed
PROFILE FEATURES
Unlimited Custom Tabs ( Shortcode / HTML Code )
Unlimited Custom Links ( Internal / External Links )
New Tabs ( Wall, Friends, Groups, Messages, Notifications … )
Private Profiles
Front-End Profile
Front-End Account Settings
14 Header Styles
22 Profile Widgets
Unlimited Color Schemes
16 Ready Color Schemes
Unlimited Profile Structures ( Variations )
06 Advanced WordPress Author Widgets
04 Tabs ( Overview, Infos, Posts, Comments )
Extremely Customizable
Unlimited Ads Widgets
Creative 404 Profile Page
Quick Account Settings Menu
2 Widget Border Styles ( Flat / Rounded )
Posts & Comments Real Time Pagination ( No Refresh Required )
Amazing Effects
Smooth Scroll
Fully Responsive Design
Set Default Profile Avatar & Cover
Control All Profile Elements Effects
Control All Profile Elements Visibility
Control Default Profile Tab.
Control All Profile Tabs ( Title, Visibility, Order, Icon … )
Control Informations Privacy ( Only me / Everyone / All Memebers / My Friends )
Unlimited Informations Fields Groups
Profile Avatar Crop
Profile Avatar WordPress Sync
New Buttons ( Notifications, Messages, Friendship Requests )
Unlimited Fields Types :
Multi Fields : Checkboxes , Multi Select Box, Radio Buttons, Drop Down Select Box
Single Fields : Date Selector, Number, Text Box, Url, Textarea
PROFILE / 22 WIDGETS
Friends
Groups
Instagram
About Me
Portfolio
Slideshow
Skills
Networks
Services
Quote
Project
Video
Flickr
Link
Post
User Tags
User Balance
User Badges
Email Box
Address Box
Website Box
Phone Number Box
Unlimited Custom Widgets ( Shortcode or HTML Code )
PROFILE / 09 TABS
Overview
Wall
Infos
Posts
Comments
Friends
Groups
Messages
Notifications
* Create Unlimited Custom Widgets ( Shortcode / HTML Code )
INTEGRATIONS
MyCRED Integration
BBpress Integration
Mailchimp Integration ( Sync. With Registration ).
Mailster Newsletter Integration ( Sync. With Registration ).
MEMBERSHIP / LOGIN FEATURES
Social Login ( Facebook, Twitter, Google, Instagram, LinkedIn )
Ajax Login
Login Form Popup ( Ajaxed / Normal Submition )
Limit Login Attempts
Front End Login Page
Login Form Widget
Lost Password Form Widget
Create +240 Different Login Form
Secure Reset Password System
Customize User Notification Emails
Controle After Logout Redirection
Login Form Shortcode [youzer_login]
Controle After Login Redirection ( Users / Admins )
Hide Dashboard & Toolbar For Normal Users
Advanced Login Widget
MEMBERSHIP / REGISTRATION FEATURES
Manage Signup Requests
Unlimited Registration Fields
Enable/Disable Registration
Registration Role Assignment
Advanced Captcha System ( Google Recaptcha )
Advanced Registration Widget
HTML User Notification Emails
Registration Form Widget
Disable The Membership System Option
Registration Form Shortcode [youzer_register]
MEMBERSHIP / FORMS FEATURES
12 Input Styles
10 Button Styles
Customize Buttons Text
Customize Forms Styling
Customize Forms Header Text
03 Input Border Styles( Flat, Radius, Rounded )
03 Buttons Border Styles( Flat, Radius, Rounded )
02 Input Icons Alignment Options ( Left, Right )
WALL / POST TYPES :
Status
Quote
Slideshow
Link
Photo/ Photos
File
Audio
Video
Blog Post
Avatar
Cover
WALL / EMBEDS ( WORKS ON POSTS & COMMENTS ) :
YouTube
Facebook
Instagram
Flickr
Vine
Tumblr
Twitter
Vimeo
Reddit
SlideShare
SoundCloud
Cloudup
TED
Spotify
DailyMotion
Kickstarter
VideoPress
Meetup.com
Imgur
Photobucket
+10 More Types
WORDPRESS / WIDGETS :
Smart Author Widget
Static Author Widget
Post Author Widget
Friend Suggestions
Group Suggestions
User Notification
Account Menu
Who's Online
Friends Widget
Site Members
Site Groups
Recently Active Members
Sitewide Notices
Login Widget
Registration Widget
Lost Password Widget
Group Description Widget
Group Moderators
Group Administrators
Groups RSS
Activity RSS
User Blance Widget
 ADMIN PANEL FEATURES
Over 700 Panel Options
52 Options Tabs
09 Color Schemes
Fully Responsive Design
Ajaxed Panel ( No Refresh Required )
04 Settings Page
General Settings
Widgets Settings
Profile Settings
Membership Settings
05 Unlimited Builders
Unlimited Ads Builder
Unlimited Custom Widgets Builder
Unlimited Custom Tabs / Links Builder
Unlimited Social Networks Builder
Unlimited Infos Widgets Fields Builder
 EXTRA FEATURES
WPML Ready
Fully Translatable
Cross-Browser Compatibility
Detailed Documentation
Good & Reliable Support
Well Commented Code
Clean & Well Organized Code
Built Using WordPress Best Practices
Built Without Frameworks
Note: Youzer +2.0 Requires Buddypress to be Installed & Active.
Note: All images are only for demo purpose and are not included in the main file.
Sản phẩm này được phân phối dưới dạng không có key kích hoạt tuy nhiên vẫn có thể sử dụng đầy đủ 100% tính năng
CAM KẾT CỦA CHÚNG TÔI
Thời hạn 1 năm
Hỗ trợ cập nhật phiên bản mới 1 năm
Không giới hạn số lượng website sử dụng
Sạch 100%, không mã độc không virus
Mua xong Key hoặc Quà tặng sẽ hiện ở đây nhé!