ShopKit là một theme chuyên về cửa hàng trực tuyến, với rất nhiều tính năng nổi bật kèm theo như Product Filter, Frontend Shop Manager, Improved Variable Products and Sale Badges, Warranties and Returns, Share Print & PDF for WooCommerce. Đầy đủ công cụ tuyệt vời để xây dựng một trang web kinh doanh cho riêng mình.
ShopKit – The WooCommerce Theme
---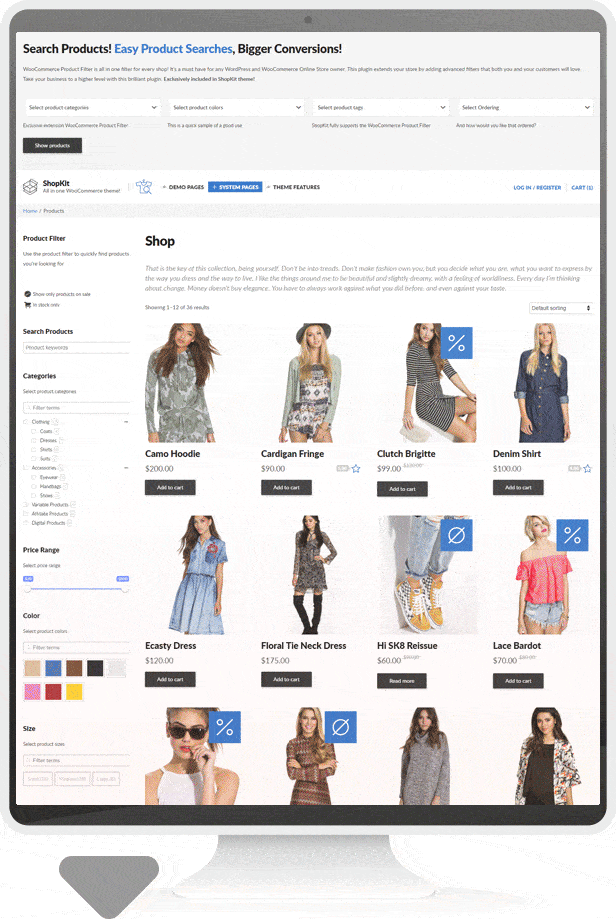 ---
ShopKit Theme Features
Super Fast, Super Light! Theme includes only 1 LESS generated CSS file and ~3kb of JavaScript!
Included Exclusive Plugins! 9 Premium plugins from Mihajlovicnenad.com + Visual Composer, Ultimate Addons for Visual Composer and Revolution Slider! Great value!
Unlimited sections and UI elements in header and footer! All styleable with 500+ fonts, colors and backgrounds, resolution/device or page dependent! "Can I add this here?" will never be asked again
Best responsiveness ever. With all sections and elements having visibility checks for mobiles/laptops/desktops, systems behind the element align and our non-JavaScript layouts, your web shop on mobile/handheld devices will look like a native app
Child themes for best practices. We've packed 3 child themes that automatically set the options when installed. Demo content is included and can be installed with a single click
Mihajlovicnenad.com exclusively included plugins! WooCommerce Product Filter, Frontend Shop Manager, Improved Variable Products and Sale Badges, Warranties and Returns, Share Print & PDF, Newscodes, Newscodes WooCommerce Extension and Widget and Sidebar Customizer
Up to 4 sidebars in the content area with separate width and mobile/laptop/desktop visibility settings
Custom CSS for responsive resolutions too! Set your custom CSS based on the device layout display. Write CSS for mobiles, tablets or laptops and desktops separately
Great WooCommerce support! 5+ years of experience in WooCommerce coding
ShopKit WooCommerce Integration
1, 2, 3, 4, 5 and 6 Product Columns! Related and Upsell column options
Fluid columns 6 > 3 > 2 on mobiles! Awesome product display
6 Product Effects! Zoom, Zoom and Fade (Uses first gallery image as second image), Fade (Uses first gallery image as second image), Flip Horizontal (Uses first gallery image as second image), Flip Vertical (Uses first gallery image as second image) and No Effect.
Hide any Product Loop or Single Product element on pages! Easy ON/OFF switches for Titles, Ratings, Prices, Descriptions, Add to Cart. More options on Single Product pages, Product Meta, Up-Sells, Product Tabs and Related Products.
EASY Product Searches that includes Product Title, Product Content/Description and SKU!
Products per page number easy customization
Single Product page customization! Product Image on Left, Right or Centered
Single Product Image width setting and Thumbnails Columns up to 10!
WooCommerce 3.0.x Zoom/Gallery/Lightbox full support
AJAX Product Filtering in Shop/Product Archives
AJAX filtering in custom pages with Product Filter shortcode
Variable In-Stock/Out-Of-Stock support!
Variable Color Swatches and Thumbnail Swatches. Improved Variable Product Attributes
Variable Product Selectors in Shop/Product Archives and shortcodes
Directory Search Filters, WooCommerce Product Filter integration
AJAX Add to Cart on Shop/Product Archives and in Single Product Pages support
Customized Sale Badges Improved Sale Badges
Warranties and Returns WooCommerce integration
Product Search Header/Footer elements
Filtering by Attributes, Custom Taxonomies, Tags, Categories, Prices, Range Filters and Meta Filters, In-Stock Filters, Sale Filters
Product Quickview with related, up-sells and attribute swatches!
Products Social Share
Products Print and PDF support! Share, Print, PDF integration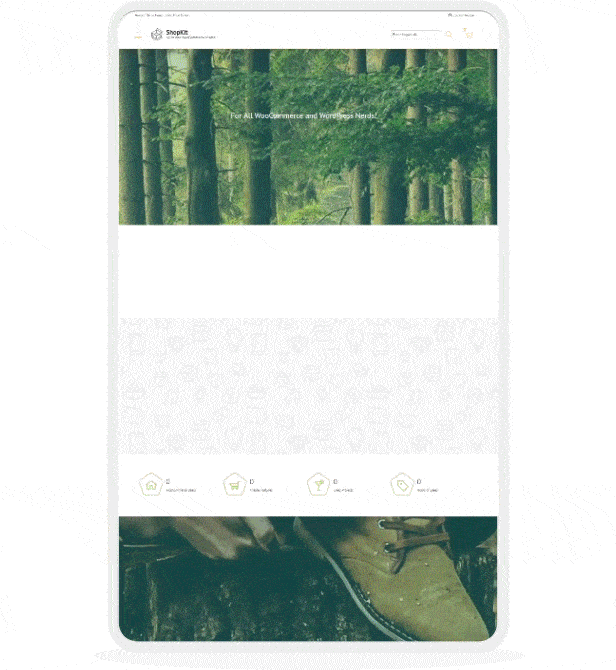 ShopKit Under The Hood
LESS CSS, one file generated on theme options save. Super fast frontend!
JavaScript at minimum use! All special effects are properly done with CSS3
Microformats data HTML5 with integrated SEO
Boxed Layout, Full-Width Layout. Layout on Left, Right or Centered in box or Full-Width Mode
Transparent Header, Transparent Header Full-Width and Full-Width Page Templates Inlcuded
Custom Site Width and Responsive Resolution Settings
Custom Margins Rows and Columns
Whole layout made out of CSS. No JS of any kind!
Super Responsive! This layout transforms like no other and is packed with customization for even better support
Lightning Fast. All this makes the theme lightning fast!
Packed with awesome exclusive plugins! Beautifully synchronized, straight out of the box!
Login and Registration Elements for Header and Footer
User Element with My Account access
Unlimited Menu Effects! 50+ Menu Effects with Colors, Animation and Font Settings
500+ Fonts! Google Fonts, Integrated Fonts and System Fonts support
Custom Font Sizes, Line Height and More!
Unlimited Font Options for any typography setting! Virtually all settings, even letter-spacing!
4 Content Button types! Bordered, Filled, Diamond, Glossy!
Up to 4 Sidebars with Custom Widths and options for display on pages and devices!
Backgrounds, Shadows Design Styles for Header and Footer Elements!
Extendable/Collapsible Sections! Collapsible with Dismiss, with Cookies support
One-Click Demo Install! With no preparation for it or server setup! Works everywhere!
Automatic plugin installation and activation
Separated Custom CSS for devices! Mobile/Handheld, Tablet, Laptop/Desktop have separated custom CSS options!
2 Blog Styles! Compact and Full-Width design
Favorites icons for all Apple Devices
Any Sidebar Layout virtually on any page!
Conditional functions support for Sections Display and Sidebar Layouts!
Developer Actions and Hooks! Whole theme is hooked up! Add code anywhere or remove what you don't need!
Sản phẩm này được phân phối dưới dạng không có key kích hoạt tuy nhiên vẫn có thể sử dụng đầy đủ 100% tính năng
CAM KẾT CỦA CHÚNG TÔI
Thời hạn 1 năm
Hỗ trợ cập nhật phiên bản mới 1 năm
Không giới hạn số lượng website sử dụng
Sạch 100%, không mã độc không virus
Mua xong Key hoặc Quà tặng sẽ hiện ở đây nhé!